Research Monograph Series
Matters Untranslatable
Research Monograph Series No. 10 (edited by Center for International Japan-Studeis, Hosei University, published in 25th February 2010)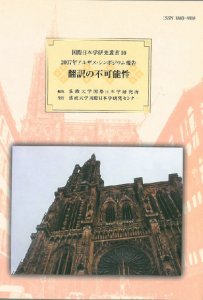 <Table of Contents>
Josef KYBURZ (Translated by ABIKO Shin and SUZUMURA Yusuke)
Untranslatable?, pp. 1-12.
ABIKO Shin
NISHI Amane and the problem of translation, pp. 13-26.
Hartmut ROTERMUND (Translated by SAGARA Masatoshi)
«Religion» = «shûkyô»: problèmes de traduction et d'interprétation  à l'époque Meiji
WAN Min
Japanese Culture tought by 'Kanji Culture' experience, pp. 41-62.
SAGARA Masatoshi
La 'Préfecture' de Police de Paris et la 'Préfecture' de Police de Tôkyô, pp. 63-81.
YAMANAKA Reiko
What is untranslatable and what is nedless to translate: Nō translation as a'tapestry of quotations', pp. 83-97.
Sandra SCHAAL (Translated by ABIKO Shin and Adrien BÉCAM)
Au-delà des mots… ? Traduire l'intraduisible dans le cas des chansons de fileuses de soie, pp. 99-131.
TANAKA Yûko
Ren (forum) and subject in early modern Japanese literature and culture, pp. 133-148.
Christiane SEGUY (Translated by SAGARA Masatoshi)
Le journalisme est-il un concept exportable ? Réflexions sur l'importation d'un produit potentiellement subversif au début de l'ère Meiji, pp. 149-158.
SHIMADA Shingo
Difference of translation: in case of the concept of 'society', pp. 159-164.
HOSHINO Tsutomu
Translation and the cultural indepedence of Japan, pp. 165-178.
Irmela HIJIYA-KIRSCHNEREIT (Translated by YAMANAKA Reiko)
A 'Translation Culture' in a globalized world: discussing aspects of translation in present-day Japan, pp. 179-199.