Body as Object
Body as Object
Research Monograph Series No. 13 (edited by Center for International Japan-Studies, Hosei University, published in 31st August 2010)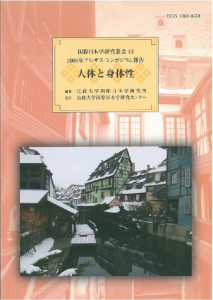 <Table of Contents>
KOAKIMOTO Dan
The Description of Physical Appearance: Focusing on War Tales, pp. 1-13.
KOBAYASHI Fumiko
Sexual Gaze towards Female Bodies in the Early Modern Japan: What Abuna-e Suggests, 15-26.
Josef KYBURZ
The Body Silent, pp. 27-50.
Zília PAPP
Transformatin as Monstrosity Monster Representations as Mirrors of Anxiety in Traditional and  Contemporary Japanese Visual Media, pp. 51-80.

SAGARA Masatoshi
How Did the Japanese Come to Master the Rhythm of the West of Modern Times, pp. 81-97.

Peter ACKERMANN
Beyond the Japanese language: Communication and the human body, pp. 99-114.

Yves CADOT
Kanô Jigorô: Body and Soul, pp. 115-130.

KAWADA Junzo
L'usage du corps humain et le développement de la conscience de l'ego, pp. 131-152.

YAMANAKA Reiko and IWATSUKI Masami
Examining the Characteristic Features of Movement in Noh Theater, pp. 153-173.

ABIKO Shin
Nishi Amane and the Mind-Body Problem, pp. 175-189.

Christian STEINECK
The Human Body in Japanese Bioethics, pp. 191-205.