The Emperor in the Japanese Culture–What is the Emperor?
The Emperor in the Japanese Culture–What is the Emperor?
Research Monograph Series No. 12 (edited by Center for International Japan-Studies, Hosei University, published in 31st March 2010)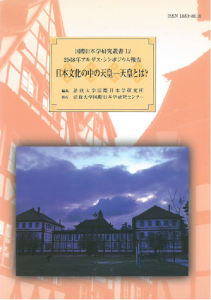 <Table of Contents>
François MACÉ
L'émergence de la figure du souverain à la fin du VIIe siècle. La complexité de la souverainet de Tenmu, pp. 1-29. 
WANG Min
Comparison of the symbol betweenpp. 31-46.
TANAKA Yuko
The honest Emperor–what was the Emperor for the Edo Period, pp. 47-73.
Jofef KREINER
Some thoughts on the ideology and the concept of rulership of the Ryukyuan Kingdom: Another "Descendant of the Sun", pp. 75-84.
SAGARA Masatoshi
Portraits of the Emperor during bakumatsu and the Meiji Era, pp. 85-99.

Josef KYBURZ
"May I touch you?" The corporality of the emperor's person, pp. 101-129.

Sepp LINHART
Thye Japanese Emperors as Seen on Japanese and Western Postcards, 1900-1945, pp. 131-146.

ABIKO Shin
'Philosophy' and the imperial institution according to Nishi Amane, pp. 147-166.
HOSHINO Tsutomu
On Watsuji's advocacy of the system of the Emperor as a symbol, pp. 167-191.

KOCHI Shosuke
The Emperor in Medival Times, pp. (1)-(34).