International Japan-Studies, No. IV, 2006.
International Japan-Studies, No. IV, 2006.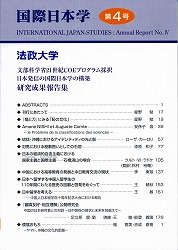 HOSHINO Tsutomu, Foreword, pp. 17-18.
HOSHINO Tsutomu, "Shame culture" in The Chrysanthemum and the Sword, pp. 17-37.
ABIKO Shin, Nishi Amane and Auguste Comte: the question of classifying the sciences, pp. 39-56.
Rosa CAROLI, Light and shadow in the Ryūkyūan-Okinawan identity, pp. 57-76.
URUSHIBARA-YOSHINO Kazuko, Stone walls as wind breaks surrounding houses on Tsushima, pp. 77-103.
Kurt Werner Radtke (Translated by SUZUMURA Yusuke), Nationalism and internationalism in Japan's economic liberalism: the case of Ishibashi Tanzan, pp. 105-135.
LI Dongxiang, The development of higher education in China and the current state of educational interchange between China and Japan, pp. 137-151.
WANG Xiaoqiu, 110 years of Chinese students in Japan: what history can tell us, pp. 153-159.
WANG Min, Considering Chinese foreign study in Japan: a report on a conference commemorating 110 years of Chinese students studying in Japan, pp. 161-177.
Adachihara Tōru, Noto Yoshitaka, Liu Xiaofeng, and Wang Min (Text by Wang Min), Forum "Good neighbors and mutual understanding" Dialogue with Chinese Japanologists: the present and future of China-Japan relations, pp. 179-213.
Fuku Hiromi and Yoshinari Naoki, Wakō ('Japanese pirate') songs in Omoro sōshi: the cultural distance between Yamato and Okinawa, pp. (1)-(39).
▶International Japanese Studies is available online.