International Japan-Studies, No. III, 2005.
International Japan-Studies, No. III, 2005.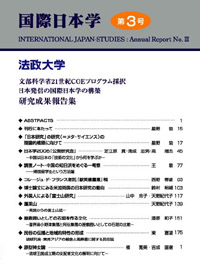 HOSHINO Tsutomu, Foreword, pp. 15-16.
HOSHINO Tsutomu, Working toward a theoretical framework for the study of Japanology as metascience, pp. 17-43.
ADACHIHARA Toru, KIYONARI Tadao, and GAO Zengjie, Japanology 2005 Open Workshop: What can China learn from Japsn's culture of technology?, pp. 45-76.
WANG Min, Notes on a survey of Chinese well -acquainted with Japan: Choices taken by Chinese after studying in Japan, pp. 77-92.
NISHINO Haruo, Extant volumes of Ken'eiro gaso in the possession of the College de France, pp. 93-101.
SUZUMURA Yusuke, Trends in Japanology in the United States and Canada viewed through doctoral dissertations, pp. 103-116.
YAMANAKA Reiko and AMANO Kiyoko, Research on Mount Fuji by foreign scholars, pp. 117-137.
AMANO Kiyoko, Horaisan(Penglaishan): A cultural topography of Mount Fuji viewed from without, pp. 139-150.
URUSHIBARA-YOSHINO Kazuko, Japanese culture as represented by stone walls used as wind breaks surrounding houses: A comparison of Aden and Onozu Villages, Kikaijima, pp. 151-174.
AZUMA Yoshimochi, An ethnography of grain storehouses and elevated graves in the Ryukyu archipelago and Southeast Asia, 175-229.
FUKU Hiromi and YOSHINARI Naoki, The origins of the early priestess class: An attempt to clarify the culture of rulers of the early Ryukyu kingdoms, pp. (1)-(28).
▶International Japanese Studies is available online.