International Japanese Studies: Annual Report No. VII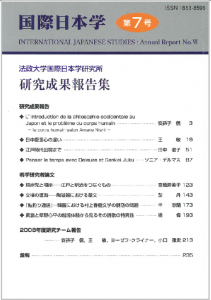 International Japanese Studies: Annual Report No. VII
Edited by Hosei University Research Center for International Japanese Studies, published in 10th October 2009
<Table of Contents>
Research Article (pp. 3-119)
・ABIKO Shin
Introduction of Western philosophy to modern Japan and the mind-body problem: Amane Nishi's philosophical understanding of the human body, pp. 3-18.
・WANG Min
The Differences of Patriotism in Japan and China, pp. 19-50.
・TANAKA Yuko
The process leading up to the emergence of the Edo period, pp. 51-86.
・DELMAS Sonia
Thinking about Time: an interpretation of Sankai Juku's performance «TOKI – Moment in the Weave Time» through Gilles Deleuze's writings, pp. 87-119.
Research Article of Young Researchers (pp. 123-211)
・TAKAHASHI Sumiko
The Negishi-to and Negishi as a place, pp. 123-141.
・PENG Dan
A Design that Crossed the Sea: the Dragon in Ceramics, pp. 143-171.
・SHIN Hyeran
Sweetfish Fishing Communiqué—Plagiarism of the Works of Murakami Haruki in Korea, pp. 173-191.
・YANG Wei
Viewing the Poetry Specificity of Kou Ei (Huang Ying) and Kusano Sinpei from the Perspective of their Cross-Border Experience, pp. 193-211.
Reports from Research Teams (pp. 213-234)
Miscellaneous Report (pp. 237-258)
▶International Japanese Studies is available online.