International Japan-Studies, No. I, 2003.
International Japan-Studies, No. I, 2003.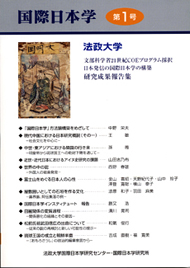 NAKANO Hideo , Foreword, p.1.
NAKANO Hideo, Note on the Methodology of Japanese Studies, pp. 5-45.
WANG Ming, Outline to Japanese Studies in China (1), pp. 47-68.
SUN wei, Interchanges among neighboring countries in the Medical East Asia : Analyzing the implication of imperial gifts conferring authority upon the King of ryukyu from Ming Emperor, pp. 69-86.
YAMADA Shinobu, The Ainu in the Pre-Modern and Modern Periods :Recent Research, pp. 87-92.
NISHINO Haruo, "Noh"in the World: Europeans who discovered the "Noh" Theatre, pp. 93-117.
KANAYAMA Yoshiaki, AMANO Kiyoko, AMANAKA Reiko, SAWATO Hirosato, and YOKOYAMA Yasuko, Mount Fuji and the Japanese Mind, pp. 119-137.
URUSHIBARA-YOSHINO Kazuko and HANEDA Mami, Stone Walls Surrounding Local House as An Expresion of Japanese Culture : The case of Aden Village on Kikai Island, Kaogoshima Prefecture, Southwest Japan, pp. 139-168.
KATSUMATA Hiroshi, Institute of International Japan-Studies in Hosei University Graduate School : An Annual Report, pp. 169-174.
MIZOKAWA Kohji , The Relations between Japan and Korea in 13th Century, pp. (96)-(75).
WAKI Toshiyuki, A Discussion on the Origin of the Matsumae Family: Who was Nobuhiro Takeda ?, pp. (73)-(49).
YOSHINARI Naoki and FUKU Hiromi, The Formation of the Kingdom of the Ryukyus and its Relations with the Korean Peninsula, pp. (47)-(3).
NAKANO Hideo, Afterword, pp. (2)-(1).
▶International Japanese Studies is available online.