International Japan-Studies, No. V, 2007.
International Japan-Studies, No. V, 2007.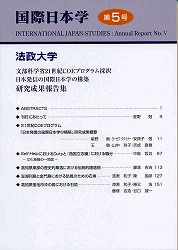 HOSHINO Tsutomu, Foreword, pp. 9-10.
HOSHINO Tsutomu, Josef KREINER, ABIKO Shin, WANG Min, YAMANAKA Reiko, and YOSHINARI Naoki, Outline of outcomes of the "Declaration of International Japan-Studies" 21st Century COE Research Program, pp. 11-86.
NAKAJIMA Tetsuya, "Duty" in Samuel Smiles' Self-Help and "shokubun" in Nakamura Keiu's Saigoku-risshi-hen , pp. 87-112.
FUJITSUKA Yoshihiro, Traditional buildings in historical settlements in the east of Kochi Prefecture, pp. 113-125.
URUSHIBARA-YOSHINO Kazuko and CHEN Kuo-yen, Stone wall windbreaks on the Taiwanese islands of Jin-men-dao and Peng-hu Lieh-dao, pp. 127-150.
URUSHIBARA-YOSHINO Kazuko, KATSUMATA Hiroshi, FUJITSUKA Yoshihiro, and TANIGUCHI Seiichi, Stone walls on the island of Okinoshima in Sukumo, Kochi Prefecture, Japan, pp. 151-172.
▶International Japanese Studies is available online.