International Japan Studies, No. II, 2004.
International Japan Studies, No. II, 2004.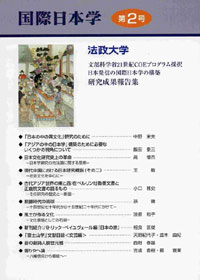 HOSHINO Tsutomu, Foreword, pp. 1.
NAKANO Hideo, Research on Minorities in Japanese Culture, pp. 5-23.
IIDA Taizo, Japanese Studies and the Asian World: Some Essential Perspectives, pp. 25-36.
GAO Zen Jie, A Revolution in Japanese Cultural Studies: Thought on the Methodology of Japan Studies, pp. 37-52.
WANG Min, Japanese Studies in Contemporary China, 53-67.
OGUCHI Masashi, The Turfan documents in Berlin and the Shosoin Documents in Nara: East and West in Ancient Asia, pp. 69-78
SUN Wei, Satto, the King of Chusan, and his Death, pp. 79-126.
URUSHIBARA-YOSHINO Kazuko, Stone Fences in the Ryukyu Island: Climate and Culture, pp. 127-150.
SAGARA Masatoshi, Review: Patrick Beillevaire <<Le voyage au Japon>>, pp. 151-163.
AMANO Kiyoko and NAMIKI Yuki, Bibliographical Essay: Mount Fuji in Classical Literature, pp. 165-180.
NISHINO Haruo, Kanze Motomasa: Playwright and Poet in Sound, pp. (31)-(59).
YOSHINARI Naoki and FUKU Hiromi, An Essay on Aoriyae, pp. (1)-(30).
▶International Japanese Studies is available online.