International Japan-Studies No.3
Journal of International Japan-Studies, No.3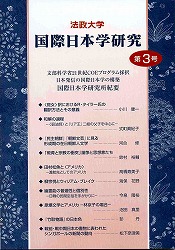 OGAWA Ken'ichi, The method and meaning of Royall Tyler's translation of the nō play Hanjo, pp. 21-38.

SHIKIMACHI Makiko, Steps toward reconciliation: humbled fathers and abused sons in Yoroboshi and King Lear, pp. 39-65.

KAWAI Osamu, The literature of Zainichi Koreans in the formative years after World War II as seen in Minshu Chōsen and Chō

sen Bungei

, pp.

67-82.

SUZUMURA Yusuke, The conflict between education and religion and the role of Meiji thinkers, pp. 83-97.

TAKAHASHI Sumiko, TAMURA Shō

gyo's "America": America as destination, pp. 99-113.

KAIHO Hanano, YANAGI Muneyoshi and William Blake, pp. 115-128.

IMAIZUMI Takahiro, An exploration of universality and particularity of yūrei

nō

through a comparison of Japanese and Korean shamanism, pp. (61)-(89).

NUMATA Mari, Depictions of America in Genbaku literature: The works of HYASHI Kyōko, pp. (37)-(60).

PENG Dan, The Japanese character of The Tale of the Bamboo Cutter, pp. (21)-(36).

MATSUSHITA Natsumi, Trends in the Shingapore press as depicted in Japanese books of the prewar and wartime periods, pp. (1)-(20).