International Japan-Studies No.2
Journal of International Japan-Studies, No.2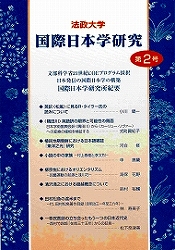 OGAWA Ken'ichi, Royall Tyler's interpretation of the nō play Matsukaze as revealed in his English translation, pp.15-37.
SHIKIMACHI Makiko, Expression and evasion in Sumida-gawa: The Nippon Gakujutsu Shinkoka English translation and Britten's Curlew River, pp. 39-61.
KAWAI Osamu, Research on the Japanese-language magazine Tōyō no Hikari published in Korea during the Japanese colonial period, pp. 63-107.
SHIN Hyeran, Representation of family in Japanese and Korean literature: A comparison of the novels of MURAKAMI Haruki and LEE Moon-Yeol, pp. 109-130.
KAIHO Hanano, The element of orientarilsm in YANAGI Muneyoshi's philosophy: Origin of the mingei (folk crafts) movement and ASAKAWA Takumi, pp. 131-144.
SUZUMURA Yusuke, The concept of transcendence of KIYOZAWA Manshi, pp. 145-159.
HAYASHI Sumiko, Activities of the writer TAMURA Shōgyo before his 1903 departure for America, pp. (19)-(39).
MATSUSHITA Natsumi, Another modern history of Japan as witnessed by an emigrant doctor: Testimony from NISHIMURA Takeshiro's Zainan Sanjūgonen, pp. (1)-(17).