International Japan-Studies No.1
Journal of International Japan-Studies, No. 1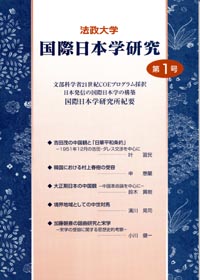 YE Ximin, YOSHIDA Shigeru's view of China and the 1952 Japan-china peace treaty: focussing on the December 1951 negotiations between Yoshida and J. F. Dulles, pp. 5-31.

SHIN Hyeran, The reception of MURAKAMI Haruki in South Korea, pp. 33-54.

SUZUKI Tsuraki, Japanese views on China in the Taish

?

era: focussing on Japanese interpretations of Chinese Revolution, pp. (47)-(85).

MIZOKAWA Koji, The national identity of medival Tsushima, pp. (23)-(45).

OGAWA Ken'ichi, KATO Bansai's studies of noh and Chinese Song-dynasty Confucianism: the Japanese reception of the doctrines of ZHU Xi, (1)-(21).