The Award Ceremony and Lecture for the "4th Professor Josef Kreiner Hosei University Award for International Japanese Studies"2019/01/11
The Award Ceremony and Lecture for the "4th Professor Josef Kreiner Hosei University Award for International Japanese Studies"
Hosei University Research Center for International Japanese Studies will hold an Award Ceremony and the Lecture for the 4th Professor Josef Kreiner Hosei University Award for International Japanese Studies at Hosei University.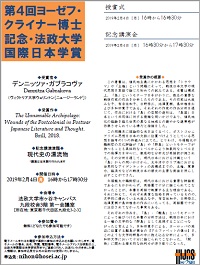 [Date]
February 4th, 2019
[Time]
16:00-17:30
[Venue]
Hosei University Kudan Building 3rd Floor Conference Room 1, Hosei University Ichigaya Campus
[Theme]
The Flotsam of History
[Speaker]
Dennitza Gabrakova (Victoria University of Wellington)
*The speech will be given in Japanese.
[Executive Summary]
Dr Gabrakova's speech is based on her book The Unnamable Archipelago: Wounds of the Postcolonial in Postwar Japanese Literature and Thought (Brill, May 2018), the award winning book for the 4th Kreiner Award, and examines a meaning of concept postcolonial in postwar Japanese literature and thought.
[Application Form]
Please send a message for application with name, affiliation, address and telephone number. Your contact information will be held in the strictest confidence as per our privacy policy.
Email address: nihon@hosei.ac.jp